Scott Barnes makeup and brushes will take your game to a whole new level. A top fashion and celebrity makeup artist, Scott has worked with the top names in the business, with clients including Kim Kardashian, Jennifer Lopez and Vogue magazine. He has translated his years of experience into the expertly designed Scott Barnes makeup brushes and iconic products including the phenomenon that is Body Bling. This bronzing, shimmering body lotion will give you supermodel-worthy skin. If it's dramatic eyes you're after, Pumped Up Mascara will give you the glossiest, blackest lashes ever.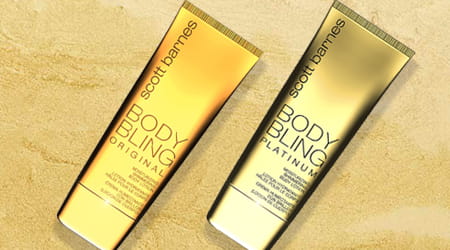 Body Bling
Scott Barnes Body Bling is where it all started. The original sensation, this amazing shimmer bronzer and body lotion gives skin a supermodel-worthy finish. Disguise imperfections and get sexy, camera-ready, glowing skin. This is Scott Barnes' favourite product for pure sex appeal, on and off camera. The "Hollywood Glow" lies in the secret formula of Body Bling.
Meet Scott Barnes
Scott Barnes is the ultimate Hollywood makeup artist. With a client list that reads like a who's who of the hottest celebs, he's known for his work with Kim Kardashian, Beyoncé, Kesha, Jennifer Lopez, Shakira and many, many more! His work has graced the covers of over 450 magazines including editions of Vogue, Elle and Vanity Fair. Scott started out as a Fine Arts student and painter and began assisting on fashion shoots, quickly becoming one of the most sought-after makeup artists in the industry.