K18 uses their own patented formula,  K18Peptide™, as a scientific approach that uses biotech instead of traditional cosmetic chemistry in hair care. This formula carries amino acids inside the hair cortex to reconnect broken bonds and keratin chains, for hair like new in 4 minutes. Can be used immediately after chemical services to repair damage done during the service, and at home to keep hair in its healthiest, strongest state. After a quest to truly liberate hair, co-founder Suveen Sahaib launched K18 when he found that beauty could be merged with biotechnology. Conditioners in the cosmetic industry temporarily smooth the outer layer of the cuticle, while bond builders patch the hair and wash out over time. The K18Peptide™ reconnects both the interchains and intrachains that make up the structure of the hair, and doesn't wash out with water or shampoo. Hair gets stronger with each treatment. This peptide formula was discovered after a decade scanning and testing all amino acid sequences, covering the entire keratin proteome that makes up human hair DNA. This K18Peptide™ discovery is one unique sequence to bring damaged hair back to it's original, youthful state, with the key being to get inside the hair where real repair can be done.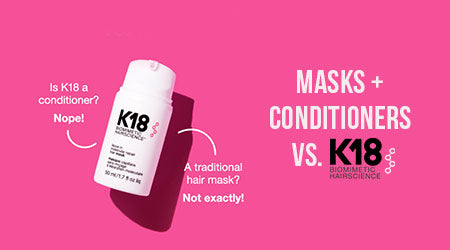 Conditioner, Mask or K18?
K18 Mask is meant to be used without conditioner. Conditioners use silicones and conditioning agents that form heavy coatings on hair, preventing the K18 peptide from reaching the broken polypeptide chains deep inside the hair's inner layer. When no conditioner is used, the K18 Mask travels deeper into the inner layers of hair than traditional repair products, the revolutionary peptide is just the right size and makeup to fit in and reconnect those broken polypeptide chains (keratin chains). And because the peptide is a bit of an overachiever, as a result of this reconnection, any disturbed disulfide bonds are also re-conformed.