Olaplex is one of the largest independent hair care brands in the world with HUGE love in Ireland, and of course around the world for haircare lovers. They have paved the way for a completely new category of haircare called "bond-building" that noticeably repairs extreme damaged hair. Olaplex began in a Calfornian garage, and since 2014 has grown exponentially to include millions of fans worldwide. Thus allowing professionals to reach new heights in colour and care. Olaplex use their own patented technology that works on a molecular level. Bis-Aminopropyl Diglycol Dimaleate, a single molecule ingredient, dramatically repairs damaged hair from the inside out. It repairs the millions of disulfide bonds in hair for dramatically improving hair strength and condition for visibly noticeable results. Hair wasn't just healthier; it took on a completely different quality — blondes were brighter, brunettes more radiant, and redheads more vibrant. The No3 Hair Protector is Olaplex's bestselling product and has earned rave reviews from customers and professional hairdressers alike.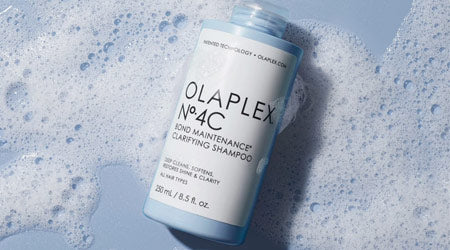 Introducing No.4C Bond Maintenance Clarifying Shampoo
NEW to Olaplex, this clarifying and detoxing shampoo is here to be on trend, but to stay. this shampoo removes product buildup from dull, discoloured, dry and unmanageable hair to reveal your healthiest hair yet. Remove chlorine, excess oil, product buildup, hard water minerals, heavy metals and pollutants with this fresh hair science.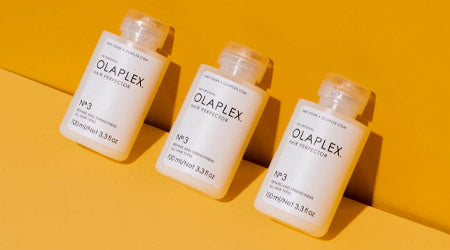 Olaplex No.3 - The Global Bestseller
Olaplex No.3 The Hair Perfector is the worldwide bestselling treatment for this brand, some may say the best olaplex product, and can be used whether you're post-salon primping or simply working on your hair perfection. Olaplex 3 can be thought of as your insurance policy for protecting your hair! This hair treatment is formulated for use at home, to rebuild the hair bonds after colouring services or any other damage caused by heat, brushing, environmental factors and friction. By using No.3 weekly, you can rebuild your hair from all the damage done to it daily. Show your hair some love!