Q+A is a natural, clean and ingredient focused skincare brand with high performance results that aims to make skincare less confusing, demystifying and explaining what your skin needs. These unique cleansers, serums, moisturisers, face creams, mists and toners have been formulated with every skin type in mind to give high performance results and deliver skincare the Q+A way! With bestsellers including their Hyaluronic Acid Facial Serum and TOTALLY trending Oat Milk Cleanser and Green Tea Toner, you are sure to find a skincare product to LOVE! If you are wondering it's pronounced 'Q and A', and they are here to ANSWER some of your skincare QUESTIONS!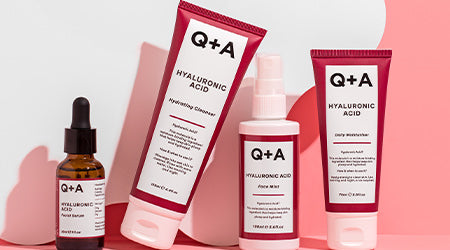 Is there such thing as too much Hyaluronic Acid?
Hyaluronic Acid is a humectant, meaning it draws moisture from the atmosphere and the skin's surface, so when it is absorbed into our skin it will plump out the surface, but it needs moisture to draw in and sometimes this cannot be found in warmer, dryer climates or on dry skin! It is recommended to apply Hyaluronic Acid to a damp face (or use the Face Mist for water moisture), as this ensures there is enough for the molecule to absorb. This complete Q+A Hyaluronic Acid routine can be used together, once you are ensuring to keep skin damp...Get ready for your hydrated glow!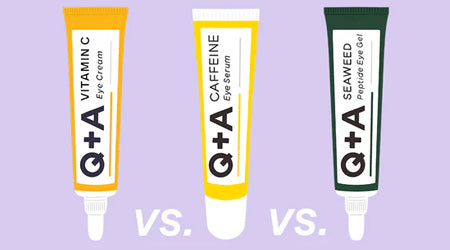 What undereye cream should I use?
The undereye area is delicate, and we need to know which product to use here! Struggling with dark circles, fine lines and uneven skin tone? Try the Vitamin C Eye Cream to brighten, nourish and energise. Noticing puffiness, tiredness and dull pigmentation? Try Caffeine Eye Serum to de-puff, tone, brighten and awaken. Lastly, if you are on the hunt for an anti-ageing, firming, Collagen boosting and brightening eye gel that will renew the skin cells, go for the Seaweed Peptide Eye Gel...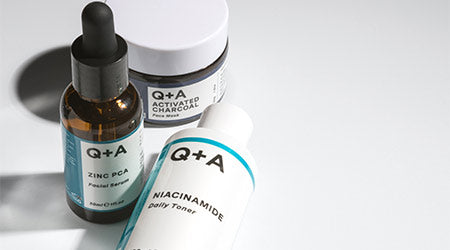 What is Skincare Cocktailing?
Simply, mixing skin ingredients to enhance a specific result. ALL about layering, did you know that using skincare in the correct order can make your regime WORK HARDER? Start with a cleansed base, or gentle exfoliation, to remove dead skin cells and make your skin cocktail absorb well. Next up, apply your routine from thinnest products to thickest (lowest viscosity to highest, for those science folks)! This ensures you are locking in the skin benefits of each product for maximum effect. BUT, watch out for oils, as these rebels are thinner than creams, but we recommend ending with these as they act as a protective barrier. Allow time for each product to sink in, and avoid piling them on fast. Some cocktails don't work well together, so plan them well. Avoid using too much AHA's and BHA's together as these may lead to irritation and overexfoliation, and also avoid using retinols afterwards. SPF is a must ALWAYS, but especially after using Vitamin C or Retinols and Acids.