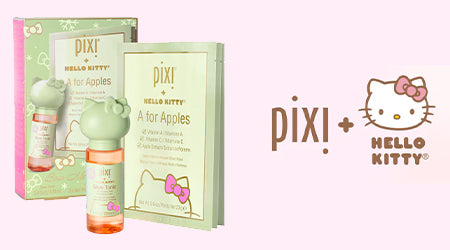 PIXI Christmas Gifts 2022 mean you're guaranteed a bright and beautiful holiday season! These gorgeous PIXI gift sets include amazing skin treats for a flawless complexion. Discover the perfect skincare regime with the Rose Glow Routine Gift Set that includes 4 easy steps to re-nourish and re-balance the skin. Pixi's Christmas collection includes the perfect stocking filler gifts for the skin lover in your life. Or grab your hands on the best-selling Patch Perfection Duo Gift Set which includes the DetoxifEYE to depuff and energise before makeup, and use Dream-yEYE after makeup removal to soothe and replenish. Don't forget must-have PIXI makeup gifts for stunning party looks.
PIXI Rose Glow Routine
PIXI Rose Glow Routine has everything you need in your skincare regime to restore a youthful glow. This four-piece set includes everyones favourite, best-selling skin essentials. This must-have gift set includes the miracle working Glow Tonic, a 3-in-1 Rose Flash Balm that instantly moisturises and brightens, the nourishing Rose Cream Cleanser and Biodegradable Makeup Melting Cleansing Cloths. It's a brilliant gift - if you can bear to give it away!
It includes:
Biodegradable Makeup Melting Cleansing Cloths
Rose Cream Cleanser
Glow Tonic 
Rose Flash Balm
Limited-edition travel bag