Armed with the mission to Innovate Beauty, Sigma Beauty products are among the most forward-thinking in the beauty industry. Sigma Beauty's story began in 2009 when power-couple Dr. Simone Xavier and Rene Xavier Filho, a molecular bacteriologist and civil engineer, respectively, launched just one brush set that instantly sold out and created a fan frenzy. Since then Sigma Beauty haven't stopped developing and improving their products from amazing makeup brushes and palettes to makeup brush cleaners and mats - they have all bases covered. Discover Sigma Beauty best sellers such as the Sigma Beauty F80 Kabuki Brush, Wicked Gel Eyeliner, Sigmagic Scrub Brush Cleaner and the Sigma Beauty Spa Brush Cleaning Mat.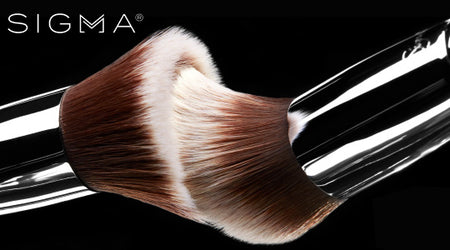 Say Hello to flawless application
The Sigma Beauty F80 Flat Kabuki™ is one of Sigma Beauty's bestselling brushes and is an essential addition to your makeup bag. The Flat Kabuki™ makeup brush provides you with a flawless and seamless makeup application.