300ml
Regular price
Sale price
$29.95 USD
Unit price
per
Sale
Sold out
L'Oréal Professionnel Metal Detox Anti-Metal Cleansing Cream Shampoo is formulated by professional hair experts designed to gently cleanse the hair, while detoxifying and brightening the hair. The hyper-active ingredients work effectively to wash away the water-induced copper deposits that can effect the health of the hair.
Why you need it

L'Oréal Professionnel Metal Detox Anti-Metal Cleansing Cream Shampoo is a rich, nourishing cream formula that transforms into a concentrated foam to gentle cleanse the hair fibres and remove the accumulation of metal particles. This powerful shampoo protects the integrity of the hair, promoting long-lasting colour with a glossy, smooth finish. Powered by patent technology, this shampoo encourages vibrant, healthy hair with an enviable luminosity. This luxurious shampoo exudes a sweet, citrus scent with mucky wood tones.

L'Oréal Professionnel Metal Detox Anti-Deposit Protector Mask is perfect to use after shampoo as it's formulated with hyper-active ingredient that penetrate the tiny fibres of the hair, effectively neutralising the copper in the hair. The hair is left detoxified, smoother, softer and more nourished.

Did you know that our water can contain metals? These metals can get into our water from pipeline erosion over time. Wash after wash, these metals can accumulate in the hair fibre - as hair acts like a sponge. Copper in particular can impact your colour result, stripping your hair of its brightness and shine. This must-have shampoo effectively targets and neutralises excess Copper, letting your hair shine!
how to use

Apply evenly on wet hair. Lather until a rich foam is obtained. Rinse well.
Key Ingredients

Chelating Agents: These are specialized ingredients that help remove metal ions, such as copper and iron, that can accumulate in the hair due to exposure to water or pollution. Chelating agents effectively bind to these metals and wash them away.

Citric Acid: Citric acid acts as a natural acidifier and clarifying agent. It helps break down mineral buildup and impurities on the hair, leaving it refreshed and clean.

Sodium Laureth Sulfate: This is a cleansing agent that produces lather and helps remove dirt and oil from the hair. It contributes to the shampoo's cleansing properties.

Coco-Betaine: Another cleansing agent derived from coconut oil that helps create a gentle lather while effectively cleaning the hair.
INGREDIENTS

AQUA / WATER / EAU•SODIUM C14-16 OLEFIN SULFONATE•COCAMIDE MEA •GLYCERIN•COCAMIDOPROPYL BETAINE•GLYCOL DISTEARATE•SODIUM LAUROYL SARCOSINATE•PARFUM / FRAGRANCE•HEXYLENE GLYCOL•CITRIC ACID•SODIUM HYDROXIDE•SODIUM CHLORIDE•SODIUM BENZOATE•LIMONENE•COCO-BETAINE•PEG-55 PROPYLENE GLYCOL OLEATE•PROPYLENE GLYCOL•HYDROXYPROPYL GUAR HYDROXYPROPYLTRIMONIUM CHLORIDE•SALICYLIC ACID•CARBOMER•BENZOIC ACID•POLYQUATERNIUM-7 •HEXYL CINNAMAL•LINALOOL•CITRAL•GERANIOL•GLYCINE•TOCOPHEROL . C266766/1.
About the Brand

Dive into hair heaven with L'Oreal Professionnel's haircare ranges & tools, designed to suit all hair types, concerns and needs. L'Oréal Professionnel believe in the powerful combination of advanced research and professional expertise to give you the hair of your dreams! One of the brand's bestselling products is the Metal Detox Oil, formulated to add shine, help protect against breakage, and protect from heat. L'Oreal products are here to protect and repair your hair whether it is fine, thick, damaged, coloured, dehydrated or frizzy.
SHIPPING & RETURNS
Faq's

Q: What is the L'Oréal Professionnel Metal Detox Anti-Metal Cleansing Cream Shampoo?
A: The L'Oréal Professionnel Metal Detox Anti-Metal Cleansing Cream Shampoo is a hair cleanser specially designed to neutralize and remove metal deposits from the hair, improving its overall health and optimizing colour treatment outcomes.

Q: How do I use the Anti-Metal Cleansing Cream Shampoo?
A: Apply to wet hair, massage into a lather, and then rinse thoroughly. Proceed with your regular conditioning or treatment routine.

Q: How often should I use this shampoo?
A: For optimal results, use it as your regular shampoo or whenever you want to ensure your hair is free from metal deposits, especially before undergoing colour treatments.

Q: Who can benefit from using this shampoo?
A: While the shampoo is particularly beneficial for colour-treated hair or those planning to undergo colour treatment, anyone exposed to hard water or frequent chemical treatments can benefit from its detoxifying properties.

Q: What makes this shampoo different from other detoxifying shampoos?
A: This shampoo is specifically formulated to target metal deposits, ensuring a more consistent colour result and reducing the risk of breakage during colour treatments.

Q: Can I use the Anti-Metal Cleansing Cream Shampoo on coloured hair?
A: Yes, this shampoo is designed to optimize colour treatments and is safe for use on coloured hair. It helps in maintaining colour vibrancy by neutralizing metals that can affect colour clarity and longevity.

Q: Can I use other haircare products after using this shampoo?
A: Yes, after using the Anti-Metal Cleansing Cream Shampoo, you can proceed with your regular conditioner, treatment, or styling routine.

Q: Does this shampoo provide any additional benefits apart from metal detoxification?
A: Beyond metal detoxification, the shampoo offers a thorough cleanse, ensuring hair feels fresh and is free from product build-up, while also leaving hair soft and manageable.
View full details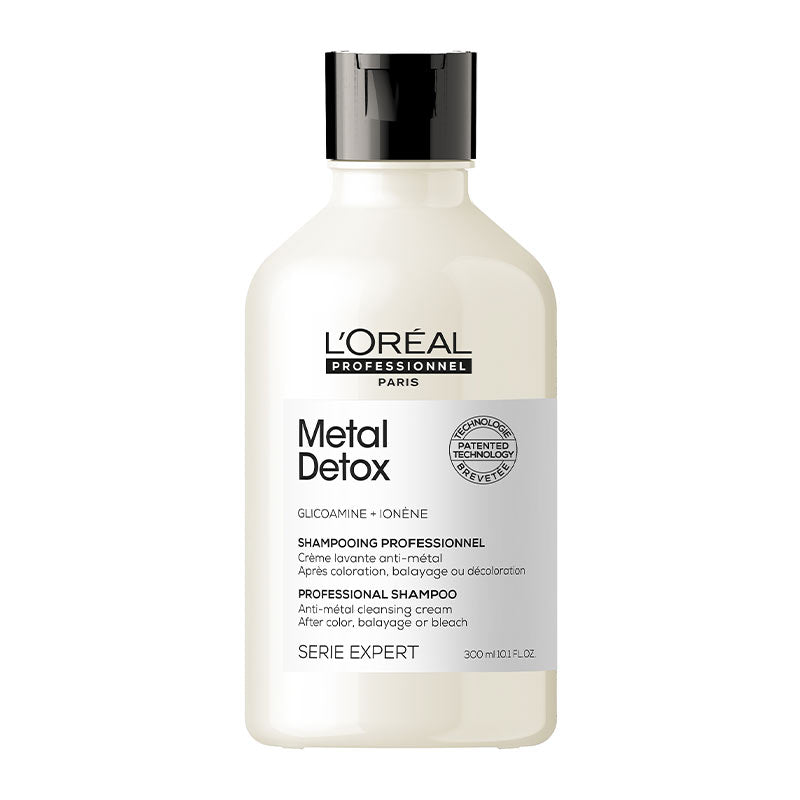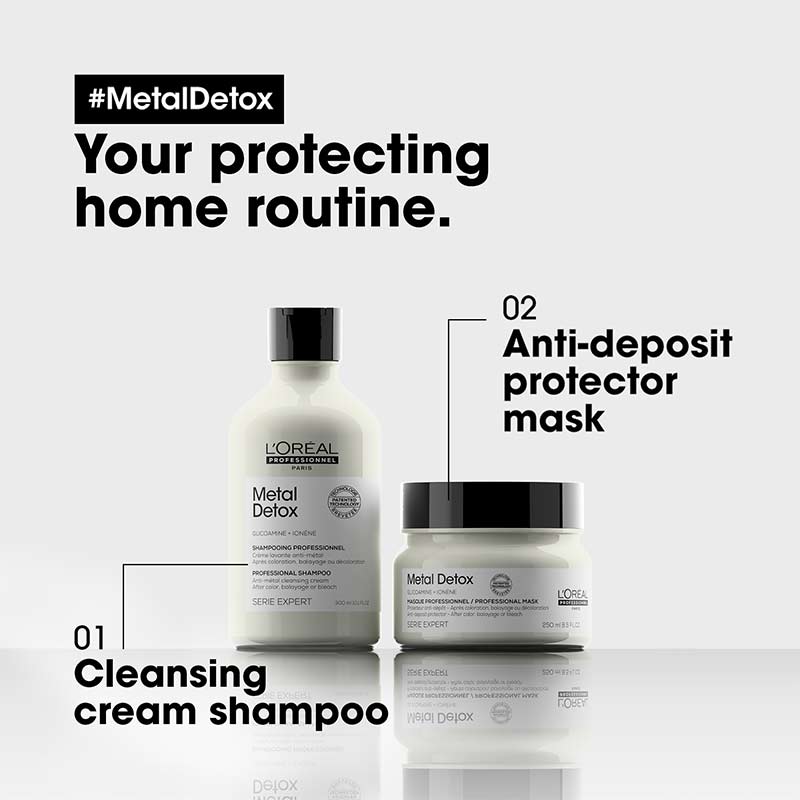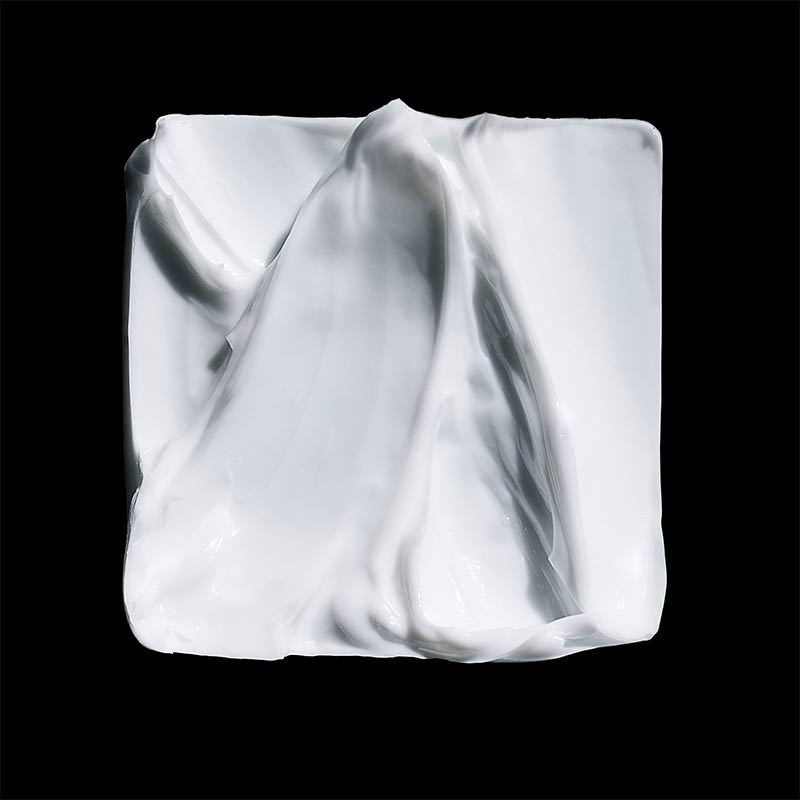 where we hang
FOLLOW US IN INSTAGRAM AND SHOW US YOUR LATEST #CLOUD10HAUL FOR A CHANCE TO FEATUE ON OUR PAGE!