30ml
Regular price
$8.75 USD
Sale price
$7.87 USD
Unit price
per
Sale
Sold out
The Ordinary Vitamin C Suspension 30% in Silicone is an extra-strong Vitamin C serum which helps to brighten skin and acts as an anti aging remedy by reducing the signs of aging.
Why you need it

The Ordinary Vitamin C Suspension 30% in Silicone contains the pure L-Ascorbic Acid form of Vitamin C which is an especially effective antioxidant. L-Ascorbic Acid has been shown to help reverse multiple signs of skin ageing while brightening the skin when applied topically.

This water-free formula provides 30% pure L-Ascorbic Acid which remains completely stable due to the absence of water. Due to the presence of very light silicones, this formulation feels smooth on the skin despite the suspension format of the formulation, avoiding the short-lived gritty feeling of the original The Ordinary Vitamin C Suspension 23% + HA Spheres 2% formula.

This treatment is ideally applied at bedtime.

Free from:
Water-Free, Alcohol-Free, Oil-Free, Nut-Free, Gluten-Free, Soy-Free, Cruelty-Free, Vegan.

Size: 30ml

how to use

Apply a small amount to face in the AM or the PM (PM preferred). A tingling sensation can be expected after application. If this sensation is too strong, this formula can be diluted on each application with your favourite serum or cream.
Key Ingredients

L-Ascorbic Acid (Vitamin C at 30%): This is the star ingredient of the product. L-Ascorbic Acid is a powerful antioxidant that works to brighten the skin, reduce the appearance of signs of aging, and protect the skin from environmental stressors like free radicals. Being in its pure form, it is highly potent but can also be a bit gritty in texture.

Squalane: Derived from olives, squalane is a lightweight, hydrating oil that closely resembles the skin's natural sebum. It moisturizes the skin and makes the product feel more comfortable upon application.

Dimethicone: This is a type of silicone that serves as the base of this formula. Dimethicone provides a smooth, silky texture, making the product easier to spread. It also helps protect the skin barrier, reduce moisture loss, and leaves a soft-focus, matte finish on the skin.
INGREDIENTS

Dimethicone, Ascorbic Acid, Polysilicone-11, PEG-10 Dimethicone.
About the Brand

The Ordinary skincare is the game-changing brand that's changed the face of beauty. With effective, trusted skincare solutions, The Ordinary products let you design your own skincare regime. No frills and no fuss means The Ordinary skincare gives you top quality ingredients at incredibly affordable prices. Hero products include 

The Ordinary Hyaluronic Acid 2% + B5

, 

Niacinamide 10% + Zinc 1%

, 

Salicylic Acid 2% Solution

, and 

Mineral UV Filters

. Part of the DECIEM family, all The Ordinary products are developed by the in-house team of chemists. The Ordinary skincare formulas are vegan and cruelty-free, plus free of parabens, sulphates and mineral oil. 
SHIPPING & RETURNS
Faq's

Q: What is The Ordinary Vitamin C Suspension 30% in Silicone?
A: This product from The Ordinary contains a high concentration of L-Ascorbic Acid (Vitamin C) suspended in a silicone base. It's designed to provide the skin with antioxidants, brighten the complexion, and reduce signs of aging.

Q: How do I use the Vitamin C Suspension 30% in Silicone?
A: After cleansing and toning, apply a small amount to the face, avoiding the eye area. Due to its high concentration, it's recommended for evening use. If you wish to use it in the morning, always follow with sunscreen.

Q: Can I mix it with other serums or creams?
A: Due to its high concentration and its silicone base, it's best used alone. If you wish to layer products, apply water-based products first, followed by the Vitamin C Suspension, and then use heavier moisturizers or oils.

Q: Is it suitable for all skin types?
A: While it's formulated for a wide range of skin types, its high concentration can be too strong for those with sensitive skin. Always patch-test before full use.

Q: Why is there a tingling sensation upon application?
A: The tingling or slight stinging sensation is common due to the high concentration of Vitamin C. This sensation should subside as your skin gets used to the product.

Q: What's the benefit of having Vitamin C in silicone?
A: The silicone base ensures a smooth application and provides a protective barrier on the skin, allowing the Vitamin C to remain stable and effective.

Q: Can I use it with other antioxidants or retinol?

A: When introducing multiple active ingredients, it's crucial to monitor your skin for any reactions. While it's possible to use with other antioxidants, it's recommended to use retinol in a separate routine to avoid potential irritation.

Q: How should I store the product?
A: Store in a cool, dry place. Vitamin C can degrade when exposed to light, so always ensure the cap is tightly sealed and the product is stored away from direct sunlight.

Q: Does it contain water?
A: No, this formulation is water-free, which ensures the Vitamin C remains stable.

Q: Why might I experience a gritty texture?
A: The "gritty" feel some users experience is due to the uncoated, powdered L-Ascorbic Acid. This grittiness usually disappears upon rubbing.

Q: How often should I use it?
A: You can start by using it every other evening and then adjust based on your skin's tolerance. Daily use can be considered if no irritation occurs.

Q: Can I use it around the eyes?
A: Due to its high concentration, it's best to avoid the sensitive eye area. If you wish to address concerns around the eyes, consider products specifically formulated for that region.

Q: What are the benefits of Vitamin C for the skin?
A: Vitamin C is an antioxidant that helps reduce signs of aging, brightens the skin, and can help with pigmentation issues. It also boosts collagen production and offers some protection against harmful UV rays (although it shouldn't replace sunscreen).

View full details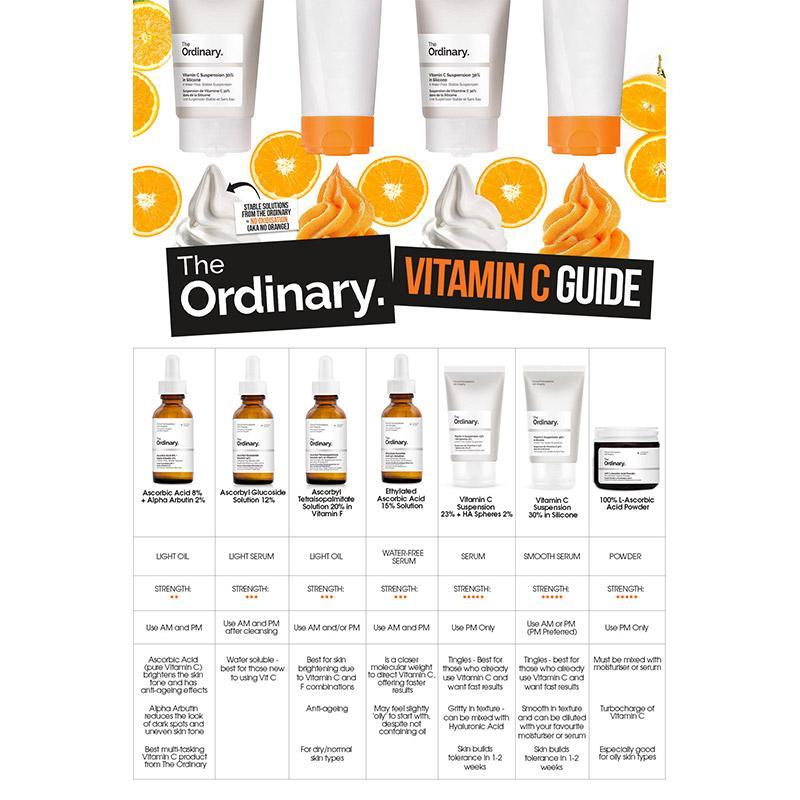 where we hang
FOLLOW US IN INSTAGRAM AND SHOW US YOUR LATEST #CLOUD10HAUL FOR A CHANCE TO FEATUE ON OUR PAGE!