Antipodes® gives you Scientifically Validated Organic Beauty™. Their innovative skincare combines in-depth research with premium quality ingredients, bringing pollution-free New Zealand nature to the world. Certified vegetarian, Antipodes skin care products deliver outstanding results for your skin. Founded by Elizabeth Barbalich over a decade ago, the brand focuses on organic skincare ingredients as they retain their highest possible bioactivity. These are highest-performing and healthiest ingredients for your skin as well as the kindest to the Earth. Antipodes Divine Face Oil showcases organic plant oils, while Aura Manuka Honey Mask uses the renowned anti-bacterial power of pure New Zealand honey to banish blemishes. Kiwi Seed Oil Eye Cream and Avocado Pear Nourishing Night Cream deliver the benefits of potent Vinanza Grape antioxidants to your skin. Antipodes skin and body care products are cruelty free, sustainably grown and harvested, and supplied in environmentally friendly packaging. They are certified vegetarian or vegan by the Vegetarian Society, and certified organic by BioGro.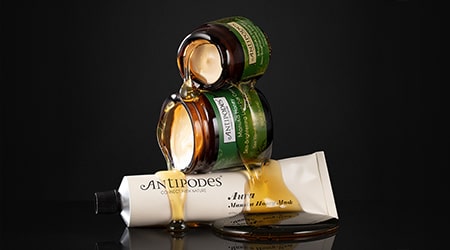 Aura Manuka Honey Mask
Antipodes Aura Manuka Honey Mask is a deep-cleansing and intensely nourishing face mask that helps to banish breakouts, keep skin moisturised, and slow down the signs of aging. The star ingredient is New Zealand Manuka Honey, long renowned for its health benefits. This superfood has anti-bacterial properties and acts as a humectant, drawing water to the skin. It helps promote fresh, youthful, fresh and blemish-free skin.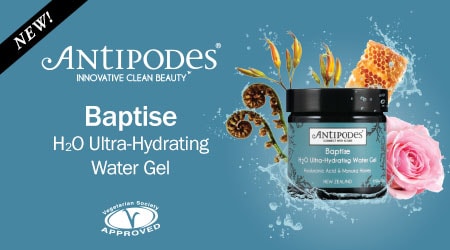 Baptise H2O Ultra-Hydrating Water Gel
Antipodes Baptise H2O Ultra-Hydrating Water Gel delivers pure, natural moisture to every skin type. This wonderfully lightweight and refreshing gel drenches skin with moisture without any heaviness or oiliness. It's formulated with world-renowned New Zealand Manuka Honey and plant-derived Hyaluronic Acid to keep skin hydrated all day and all night. It's clinically proven too, and shown to increase skin hydration by 52% (Dermatest Australia: clinical study of 10 women, ages 38-58, 2019). Baptise is like a cool glass of water for your skin. 
SHOP NOW 

Introducing Antipodes Skincare
Antipodes is a proudly New Zealand-owned and operated beauty brand with scientifically validated premium natural skincare and makeup that's healthiest for people and the Earth. It combines the highest quality ingredients from New Zealand nature and raw superfruit extracts with science and innovation to produce high-tech certified organic and premium formulations. As a result, Antipodes is a trailblazer in natural skincare with scientific validation to prove its performance.
"Because we are devoutly focused on quality, we believe that the most nutrient-rich skincare ingredients come from the purest pollution-free sources," says Elizabeth Barbalich, Antipodes' founder and CEO.
These ingredients include nutrient-rich oil from avocados, vitamin C-rich oil from kiwifruit seeds, world-famous New Zealand manuka honey harvested from remote hives and revolutionary antioxidant Vinanza Grape from the seeds of sauvignon blanc grapes. Unique bioactive extracts such as kawakawa, totara and pohutukawa extracts are wild-harvested from New Zealand forests.
Antipodes' award-winning products come with a strong commitment to sustainability, with the brand's Clean Beauty Ethos featuring as one of its most important pillars. Its environmentally friendly pledges include recyclable packaging and independent verification of its organic, vegan and vegetarian products. Lift the lid of any Antipodes product and connect with New Zealand nature, wherever you are in the world.