Bondi Sands tan is all about the sun, sand, sea and safe tanning lifestyle! Inspired by Australia's most famous beach, they're also the makers of Kylie Jenner's favourite tan. The much-loved Bondi Sands Liquid Gold is a revolutionary self tanning dry oil that doesn't need rinsing and develops in 2-3 hours. Bondi Sands Ultra Dark self tanning foam is the perfect choice if you want a deep, dark tan, and don't forget the Tan Eraser whenever you need to prep your base for fresh tan, or gradual tan if you want a no-fuss way to top up your tan every day. Bondi Sands PURE range is Bondi's first ever sustainable self tanning range with skin loving ingredients and fabulous tanning! Bondi Sands Sun range has you covered if your looking for UVA & UVB protection while also providing nourishment and moisture to skin. Get your glow goin' on with Bondi Sands tan!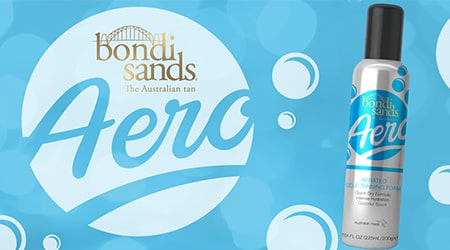 Bondi Sands Aero Aerated Self Tanning Foam
Bondi Sands Aero Aerated Self Tanning Foam is a revolution in self-tan. The formula is amazingly easy to apply, dries super fast and delivers a fresh burst of hydration to your skin to help tan last even longer. It gives you a fabulously deep bronzed glow that lasts for up to 7 days.