Regular price
$21.95 USD
Sale price
$18.66 USD
Unit price
per
Sale
Sold out
Bondi Sands Self Tanning Foam - Dark is a self-tanning product designed to give you a natural-looking tan without the need for sun exposure. It comes in a foam formulation for easy application and development on the skin. Is quick to dry, and gives you a gorgeous deep tan every time. Now available in an airline-friendly travel size.
Why you need it

Bondi Sands

Self Tanning Foam - Dark is a salon-quality tan that you can use at home. This lightweight tanning foam gives a gorgeous, even result every time, without streaking. Formulated with nourishing ingredients like soothing Aloe Vera and hydrating Coconut, it also cares for your skin while you tan. This tanning mousse dries quickly so you should be ready to dress and go in just 15 minutes.

Bondi Sands dark tan is perfect if you have an olive skin tone or just prefer a deeper tan. If you'd like a lighter tan, try Bondi Sands Self Tanning Foam - Light/Medium. Or, for the deepest Bondi Sands tan yet, try Bondi Sands Self Tanning Foam - Ultra Dark!

Size:
Available in 200ml Full Size & 100ml Travel Size
how to use

Exfoliate skin thoroughly beforehand to get the best possible result. When you're ready to apply, make sure skin is clean, dry and free from moisturiser. Pump some Bondi Sands Self Tanning Foam - Dark onto your tanning mitt, and use long, sweeping strokes over arms, legs and body, making sure you haven't missed anywhere. Use tan residue from the mitt to tan dry areas like knees, elbows, hands and feet. Leave to develop for 1-8 hours before showering. The longer you leave it, the deeper the tan. For an even darker tan, reapply Bondi Sands Self Tanning Foam - Dark 30 minutes after the first application.
Key Ingredients

Dihydroxyacetone (DHA): DHA is a colorless sugar that interacts with the amino acids in the top layer of the skin to create a temporary tan effect. It's the active ingredient responsible for the tanning process.

Erythrulose: Another tanning agent that works similarly to DHA. It provides a longer-lasting tan by reacting with the skin's surface over a longer period.

Aloe Vera: It helps keep the skin hydrated and comfortable during and after tanning.

Coconut Oil: An emollient that helps to soften and condition the skin, providing a smooth and even surface for tanning.

Vitamin E: An antioxidant that helps protect the skin from free radical damage and environmental stressors. It contributes to maintaining skin health.
INGREDIENTS

Aqua, Dihdroxyacetone, Propylene Glycol, Trideceth-9, Aloe Barbadensis Leaf Juice, Polysorbate 20, PEG- 5 Ethythexanoate, Glycerin, Ethoxydiglycol, Butylene Glycol, Phenoxyethanol, Parfum/Aroma, PEG- 12 Dimethicone, CI 14700, CI19140, Tocopheryl Acetate, Disodium EDTA, Benzyl Alcohol, Panthenol, CI42090 Coumarin
About the Brand

Bondi Sands tan is all about the sun, sand, sea and safe tanning lifestyle! Inspired by Australia's most famous beach, they're also the makers of Kylie Jenner's favourite tan. The much-loved 

Bondi Sands Liquid Gold

 is a revolutionary self tanning dry oil that doesn't need rinsing and develops in 2-3 hours. 

Bondi Sands Ultra Dark self tanning foam

 is the perfect choice if you want a deep, dark tan, and don't forget the 

Tan Eraser

 

whenever you need to prep your base for fresh tan, or gradual tan if you want a no-fuss way to top up your tan every day. 

Bondi Sands PURE

 

range is Bondi's first ever sustainable self tanning range with skin loving ingredients and fabulous tanning! 

Bondi Sands Sun

 

range has you covered if your looking for UVA & UVB protection while also providing nourishment and moisture to skin. Get your glow goin' on with Bondi Sands tan!
SHIPPING & RETURNS
Faq's

Q: Is Bondi Sands Self Tanning Foam suitable for all skin types?
A: Yes, Bondi Sands Self Tanning Foam is generally suitable for various skin types. However, if you have specific skin concerns or conditions, consider doing a patch test before applying the foam all over your body.

Q: How long does it take for the tan to develop with Bondi Sands Self Tanning Foam?
A: Its recommended to leave to develop for 1-8 hours before rinsing. The longer you leave it, the deeper the tan.

Q: Can I shower after applying Bondi Sands Self Tanning Foam?
A: It's recommended to wait until after the recommended development time before showering. This allows the self-tan to fully set on your skin.

Q: Will Bondi Sands Self Tanning Foam leave streaks or an unnatural result?
A: When applied correctly and evenly, Bondi Sands Self Tanning Foam is formulated to provide a natural-looking tan. Following the application steps and using a tanning mitt will help achieve an even application.

Q: How long will my tan last after using Bondi Sands Self Tanning Foam?
A: The longevity of your tan depends on factors such as your skin type, skincare routine, and how well you maintain it. Generally, self-tans can last around 5-7 days with proper care.
View full details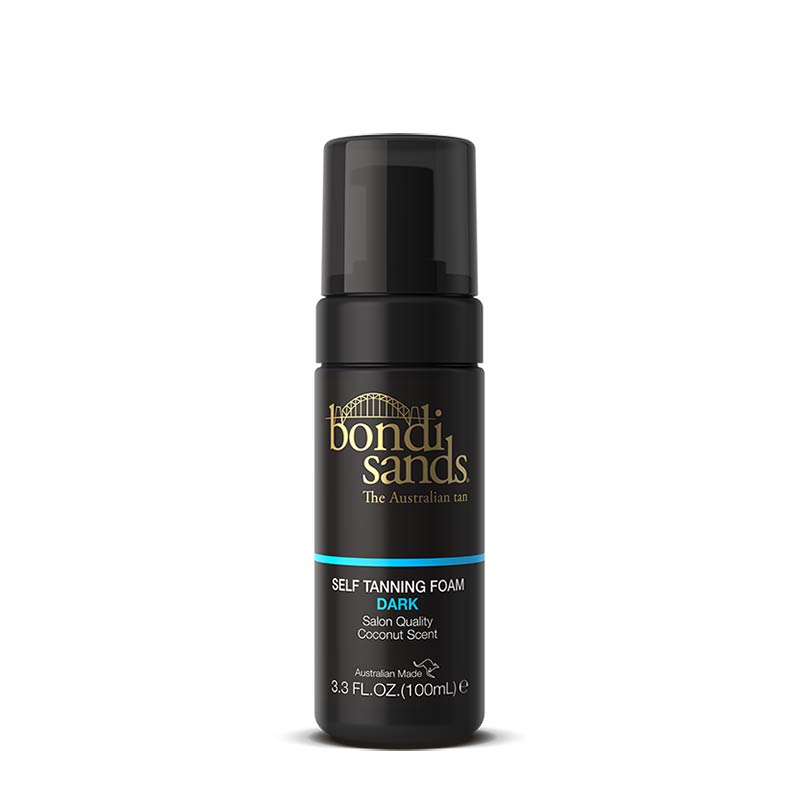 where we hang
FOLLOW US IN INSTAGRAM AND SHOW US YOUR LATEST #CLOUD10HAUL FOR A CHANCE TO FEATUE ON OUR PAGE!