LOOKING FOR YOUR NEW HERO PRODUCT?
First Aid Beauty Hello FAB Coconut Skin Smoothie Priming Moisturizer is an oil-free, brightening multi-tasker that hydrates and perfects for the ideal makeup base. Packed with goodness to feed your skin.
Coconut Water is packed with nutrients including amino acids and electrolytes to hydrate and revive skin while Quinoa Extract works to protect and repair the skin's surface. A special blend of minerals including Zinc, Copper, and Magnesium help boost skin's health and regenerative powers, while a range of Botanical Extracts deliver an anti-oxidant boost to skin.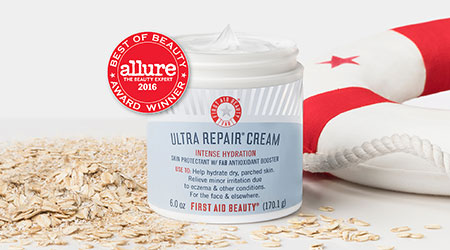 First Aid Beauty Ultra Repair Cream
Banish dry skin for good with First Aid Beauty Ultra Repair Cream!
Clinically proven to provide 12 hours of continuous hydration, Ultra Repair Cream contains colloidal oatmeal, shea butter, eucalyptus oil and ceramides which provide immediate relief to distressed skin, while its antioxidant booster defends skin from free radical damage.