Beauti Edit are an innovative beauty brand with a wellness ethos at the core of everything they do. the ultimate skincare tan brand, founded on the simple principle of combining clean beauty with wellbeing. Each product is carefully crafted using high quality ingredients to give a luxurious at home spa experience. All products in the range are vegan, cruelty free and 95% natural. Get healthier, more radiant skin with Beauti Edit. The bestselling fan fav is the Decadence by Lorraine Keane Gradual Tanning Cream, a skincare x tan hero!
Which Self Tan Shade should I choose?
Self Tan is based off personal choice and preference, but we are here to guide you in the right direction. If you are a confident self tanner, choose your favourite Tan, Treat, Hydrate shade based on your desired result and colour pay off. For the less confident tanners, we recommend you start with Medium! This will naturally work with your individual level of melanin in your skin to give you a gorgeous glow.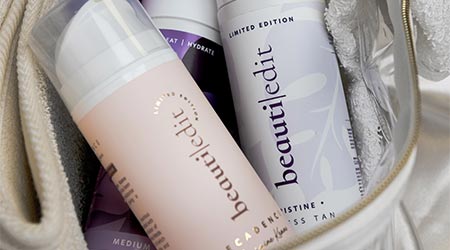 The Skincare Tan - Consultant Dermatologist Approved
"Decadence Daily Gradual Tanning Cream is my favourite self-tanning cream for the face. It is formulated with anti-oxidants and light-weight moisturisers to nourish and replenish the skin while producing a natural glow" - Professor Caitriona Ryan, MD FRCPI FAAD, Consultant Dermatologist