Collection:

L'Oreal Professionnel

Dive into hair heaven with L'Oreal Professionnel's haircare ranges & tools, designed to suit all hair types, concerns and needs. L'Oréal Professionnel believe in the powerful combination of advanced research and professional expertise to give you the hair of your dreams! One of the brand's bestselling products is the Metal Detox Oil, formulated to add shine, help protect against breakage, and protect from heat. L'Oreal products are here to protect and repair your hair whether it is fine, thick, damaged, coloured, dehydrated or frizzy.
L'Oreal Professionnel's Bestsellers
SHOP BY L'Oreal Professionnel COLLECTION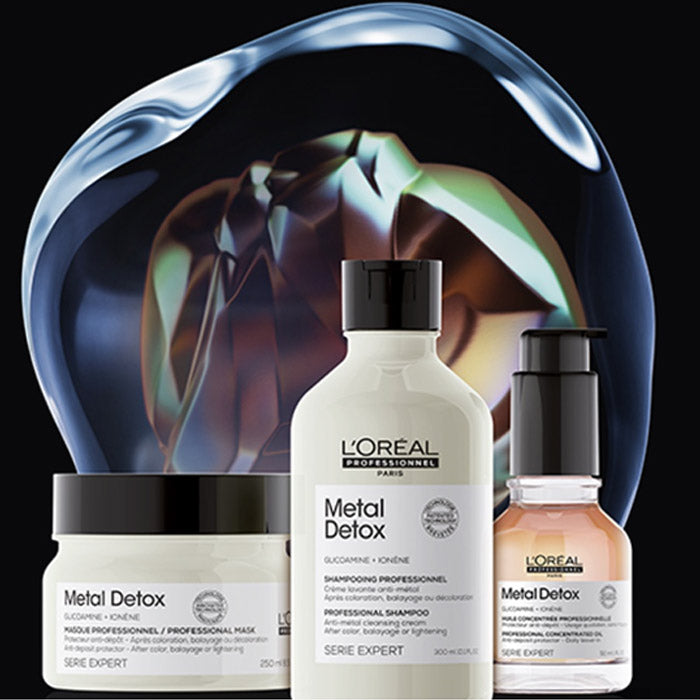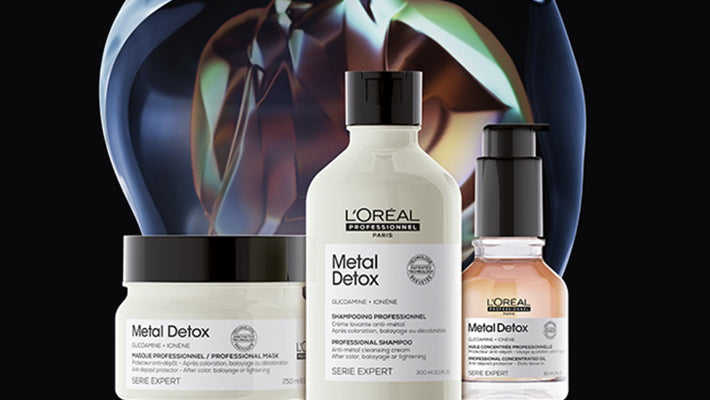 Discover Metal Detox
L'Oréal Professionnel Metal Detox is the haircare range designed to neutralise excess metal from hair fibres, preventing dryness and breakage. This is the ultimate home hair care for colour protection and shine, this range improves the condition of hair from within, so you get smoother, softer hair.
Shop Now
L'Oreal Professionnel Metal Detox
Wash after wash, metal and coppers penetrate inside your hair. It can cause hair breakage & colour shift. The level of metal in hair varies, depending on hair porosity and on the water quality where we live. It's not a problem for people's health. But it creates a risk of breakage. Using Metal Detox range that is enriched with a patented technology concentrated with Glicoamine will help remove metal from your hair, leaving hair stronger and shinier.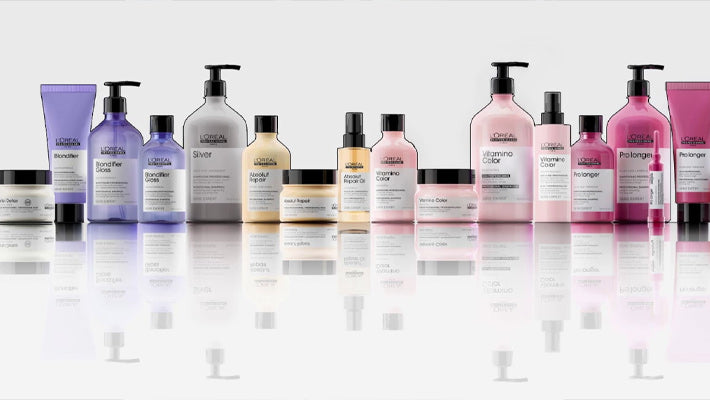 L'Oréal Haircare:
A Century of Excellence
Beginning in 1909 with Eugène Schueller's innovative hair dye formula, L'Oréal has been at the forefront of haircare advancements. The brand introduced ammonia-free perms in the 1930s, setting new safety and quality standards. As it expanded globally, L'Oréal tailored its products to cater to diverse hair types and needs. In the 21st century, they integrated tech, embodying a commitment to haircare innovation, research, and global understanding of haircare needs.
Through its trailblazing spirit, passion for science and the development of new innovations, L'Oréal Professionnel continues to lead professional hair beauty and take it to future, that is sustainable and tech. Our brand's story is constantly fueled by in-depth and disruptive innovations, developed out of our passion for science and our technical, technological and tech-augmented expertise. Today, we push the boundaries with patented molecules, advanced research, elevated tools and new-to-the-world solutions at the disposal of hair stylists.
Born from the marriage of tech and science. L'Oréal Professionnel isn't your ordinary hair tale. They're all about shaking up hairstyling history by cooking up innovations that are as cool as your new 'do. They're the trailblazers behind the first harmless hair dye, the cold perm, skin allergy tests – just to name a few of their star moves. Their story? It's a wild ride of groundbreaking ideas that pop out of their love for science and their geeky know-how. Today, they're bending the rules with fancy molecules, high-tech research, slick tools, and solutions that are fresher than your post-salon glow. Let's turn those locks into legends!