Ultrasun takes sun protection seriously. Just one application of these advanced, innovative sunscreens will keep skin protected all day long. Ultrasun sunscreens are made with sensitive skin in mind and are free from fragrance, emulsifiers and preservatives. Most Ultrasun products are also packaged in airless dispensers giving them an extended shelf life of up to 24 months after opening. If you demand the very highest level of protection, check out Ultrasun Extreme SPF 50+ or if you love natural beauty products, try the Mineral range which is NATRUE certified. All Ultrasun products are cruelty free and everything except the Lip Protection is Vegan.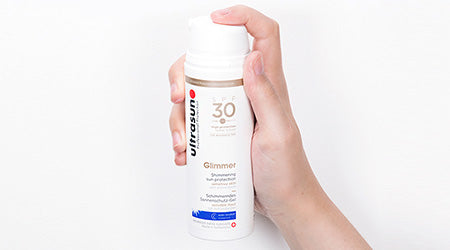 It's time to GLIMMER! 
The Ultrasun celeb favourite Glimmer sunscreen doesn't just protect your skin - it also gives skin a sexy, golden sheen. Its oil-free formula means Glimmer works great with fake tan too! The Ultrasun Glimmer sunscreen features dry touch technology and gives an all-day, water resistant protection from just one application!