Hawaiian Tropic provides protection from the sun with products infused with the goodness of the tropics to ensure your skin is thriving. Lucious formulas promote healthy skin by preventing sun damage and premature aging. Highly rated for it's ease of absorption, lack of tacky or oily feel on the skin, and rinsing off effortlessly. Their signature Hawaiian-inspired scents will invigorate your senses. Some bestselling products you may know and love include the Silk Hydration Face Lotion SPF 30 and the Protective Spray Oil SPF 15. At Hawaiian Tropic they feel that the Hawaiian way of life and values are the key to living a wonderful well-intentioned life. And we'd have to agree!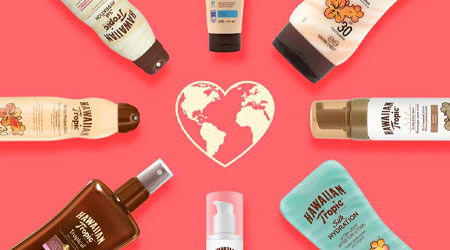 For Hawaiian Tropic - Suncare is the same as skincare!
Treat yo' self to indulgent suncare from Hawaiian Tropic that not only protects your skin, but will also nourish it with products that your skin will appreciate.
Trustworthy suncare for your skin, Hawaiian Tropic creates skin-loving, Hawaiian-inspired suncare to help you look and feel your best.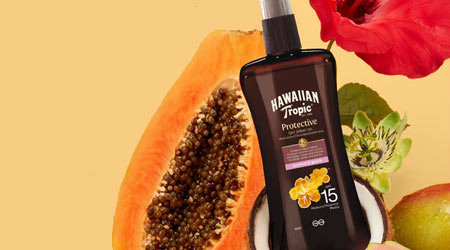 The bestselling tanning oil!
Hawaiian Tropic Tanning Oil is a luxuriously hydrating oil that nourishes your skin with rich moisturization and enhances
your tan. Made with coconut oil and cocoa butter, this iconic tanning oil keeps skin soft and luminous as you enjoy the sun.