Known now for its retro design and elegant packaging, Marvis was founded in Italy to provide effective toothpaste and oral care solutions. The luxurious toothpaste brand adds a touch of class and fashion into oral health while still offering total protection, a clean teeth feel and refreshingly pleasant breath after every use. With a range of unique and eclectic flavours to choose from, Marvis has branched away from the traditional toothpaste flavour to appeal to the open minded and curious. Try the crazy flavours including Ginger Mint and Orange Blossom, to see what you fancy! The Florence based toothpaste company creates simple luxuries by turning everyday rituals into moments of pleasure that captivate the senses. Inspired by art and fashion, toothpaste has never been so stylish!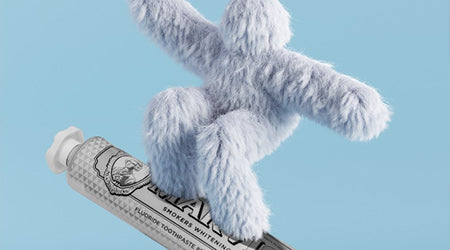 Marvis Whitening Mint Toothpaste
Fashionable, functional and flavoursome, the Marvis Whitening Mint Toothpaste is an all-rounder that works to protect, whiten, and freshen your oral health routine. This luxurious toothpaste has a creamy texture and premium formula that gives a visibly brighter, enhanced smile. Don't believe us? Our fave spice girl, Victoria Beckham took to Instagram to tell us all about her beauty travel essentials, including the Marvis Whitening Mint toothpaste. Described as 'quite a posh toothpaste' by our very own Posh Spice, the high quality and elegant design has received the Beckham stamp of approval as 'the best toothpaste.' If its good enough for Victoria, its good enough for us!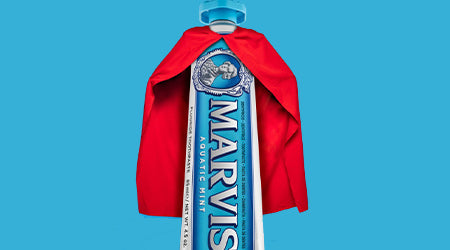 Freshen up your oral health!
Known for flavour and style as well as high quality toothpaste formulas, Marvis gives your whole oral health routine a freshen up, from your bathroom cabinet to your breath. The quirky toothpaste tubes and mouthwash bottles are aesthetically complementary to your bathroom décor, while the premium formulas protect and cleanse the mouth with superior efficiency. With all the talk of freshening up, we thought it would be a good time take a refreshed look at the recommended oral health routine. Brush your teeth for about 2 minutes first thing in the morning and last thing at night. Ensure all the surfaces of your teeth are reached by brushing, including inside, outside and chewing surfaces. Don't rinse your mouth immediately after brushing as it dilutes the fluoride and reduces the effect of brushing. Similarly with mouthwash, don't rinse with mouthwash immediately after brushing – instead, choose a different time throughout the day to use mouthwash for a boost of freshness, such as after eating.