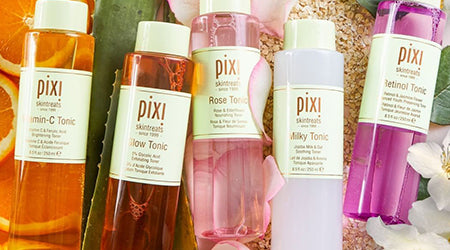 THE PIXI TONICS THAT WE CAN'T LIVE WITHOUT
Loved by celebrities like Jourdan Dunn and Ellie Goulding, the PIXI Glow Tonic has left the world looking radiant thanks to its exfoliating formula with 5% Glycolic Acid.  Glow Tonic also contains natural ingredients to soothe and heal, making it suitable for all skin types.
PIXI Rose Tonic is ideal for sensitive skin types while PIXI Retinol Tonic features a unique time-release Retinol to help rejuvenate skin for a natural glow. PIXI Vitamin-C Tonic is brightens and protects with Anti-Oxidants, or try the soothing PIXI Milky Tonic if you've got dehydrated or stressed skin.
PIXI have teamed up with Skincare guru and blogger, Caroline Hirons, to revolutionise cleansing!
PIXI + Caroline Hirons Double Cleanse contains a solid cleansing oil balm and luxurious cleansing cream to thoroughly cleanse your skin at the end of the day. It contains Vitamin E to protect and nourish skin, while Camelia Oil and Evening Primrose heal and moisturise skin. Follow with the cleansing cream - massage it in to stimulate skin. Vitamin C and Peptides stumulate collagen production, helping to firm skin, while Arganine improves skin cell renewal and elasticity.