Embryolisse skincare products are the ultimate French beauty secret. Trusted by French women since 1950, the story began when a Paris dermatologist created what has become Embryolisse's best-selling moisturiser, Lait-Crème Concentré. Embryolisse Lait Crème Concentré has achieved cult status and sold millions worldwide - one tube is sold every 60 seconds! More than just a moisturiser, it's loved by makeup artists as it can be used as a primer and makeup remover also. Another favourite with beauty buffs is the Artist Secret Radiant Eye - or the Secret de Maquilluers Eclat du Regard as its known in French. Other Embryolisse favourites include the Secret de Maquilluers Radiant Eye and the restorative Hydra Mask. Try Embryolisse today and discover it for yourself!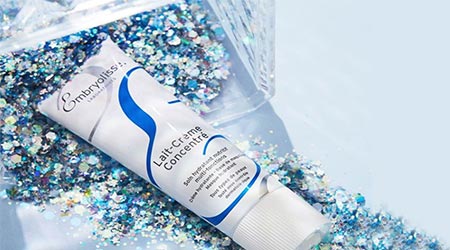 Embryolisse Lait-Crème Miracle Moisturiser
With over 65 years of history, the Embryolisse Lait-Crème Concentre ensures your skin is looking sparkly and glowy all year round. The Embryolisse Lait-Crème Concentre is a backstage staple for makeup artists and a go to for many models when their skin needs a hydration boost. With 1 sold every 60 seconds it's no surprise that this cult product has found its way onto countless photo shoots, tv and film sets worldwide.