SUVA Beauty began in 2015 and offers you a range of bold, inventive and imaginative makeup and brushes. SUVA Beauty's colourful, pro-quality products aim to excite the artist and creator in everyone. The cult favourite, vegan-friendly Hydra Liners are water-activated, pigment-packed eyeliners (they're also perfect for face and body art). Hydra FX takes it up a level - these babies give off a fluorescent glow under UV light! For the most amazing results, use them with one of the SUVA Beauty eyeliner brushes. Try the ultra-ultra-fine Six Ten brush or the larger Six Forty. All SUVA products are cruelty free.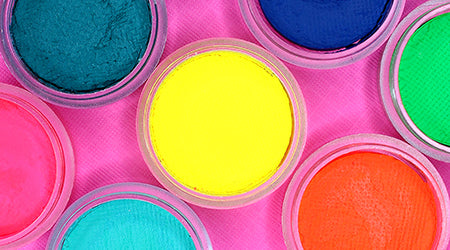 Hydra FX & Hydra Liners
SUVA Beauty Hydra Liners and Hydra FX give you the ultimate control for the most artistic and expressive looks. Depending on how much water you use use, you can create a super opaque winged eyeliner or unique water-color looks. Apply with a makeup brush, sponge or airbrush to create a multitude of effects. You can even mix any Hydra Liner and FX shades together to your own brand new custom colour. Unlike gel or liquid liners, they can't become unusable because of 'drying out' - when used correctly, they return to their solid state after use.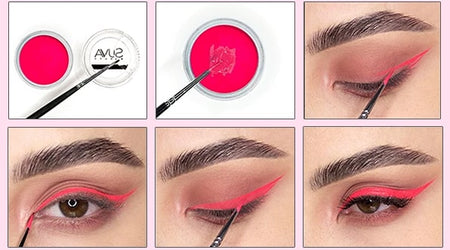 Pro Tips
1. Activate the Hydra Liner/FX with water only.
2. To avoid moisture build-up, do not put water directly into the pot.
3. Experimenting with mixing agents? Scrape the product out of the pot and onto a makeup palette before activating.
4. Mix until the products is creamy (you may need to use more water if the mixture is too dry).
5. For a super opaque application, the key is to start with a good consistency!
6. Layering thinner/sheer applications may result in cracking.
7. After applying, let the product air dry in a sanitary area before closing the lid.
8. Create new HYdra Liner/FX shades by mixing them together!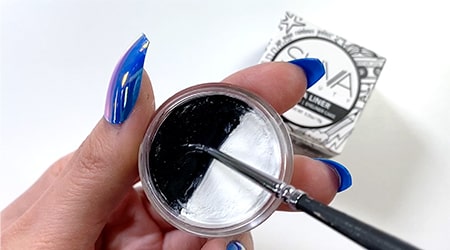 Doodle Hydra Liner
SUVA Beauty Doodle Hydra Liner ingeniously combines black and white cake eyeliners in the same pot. Use them separately for fabulously opaque and dramatic eyeliner looks or mix them together for infinite shades of grey. You can also mix them with other shades of Hydra FX or Hydra Liner to lighten or darken them.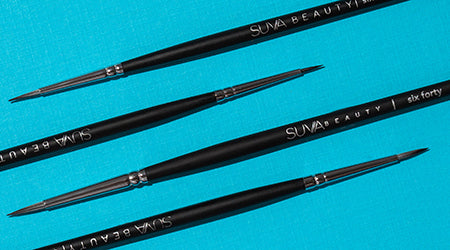 Fine Liner Brushes
SUVA Beauty Fine Liner brushes are cruelty free and vegan friendly. Crafted from premium synthetic fibres, they are specially engineered to give you all the precision you need when you're creating eyeliner looks or intricate face and body makeup.
SIX TEN - the smallest of the liner brushes, it's got short hairs and a dense, ultra-fine tip. Ideal for the finest lines and most detailed work.
SIX TWENTY - slightly longer than the Six Ten, it's got a soft tip with a fine point.
SIX THIRTY - this brush head is a little thicker and longer, with a fine, soft-tipped point.
SIX FORTY - the largest of the liner brushes, it's ideal if you like a thicker line. It's got a long, dense, fine tip.